Are you looking for the best GeForce RTX 3080 card for building an extreme-level gaming PC? The GeForce RTX 3080 is NVIDIA's super expensive graphics card with extreme level performance. It is the newest launch GPU by NVIDIA and they're a little expensive than the old version of chipsets, including the RTX 2080, RTX 2080 Super, and RTX 2080 Ti.
So if you're looking for the best GeForce RTX 3080 card for your PC, then here in this guide, I've shared some of the best graphics cards which you grab today for your PC Build.
These are the most premium graphics card for a power pack performance and are listed as the best graphics card for high-end gaming. This is the reason we have compiled a comprehensive guide on the best RTX 3080 graphics card, especially for you!
Best GeForce RTX 3080 Cards
The wait is over!
Here are the best RTX 3080 card which you can grab today for building your new PC and for old PCs and increase its performance for high-end gaming and video editing.
The first graphics card which we're going to list here is,
This is the first graphics card from the GeForce RTX 3080 series, which I suggest checking for high-end performance. The ASUS TUF series is well known for its high-end gaming performance, and this graphics card from the ASUS TUF series is built for extraordinary performance.
Like the other RTX 3080 card, this graphics card comes with 10GB of GDDR6X memory, PCIe 4.0 support for extreme performance and bandwidth, HDMI 2.1, DisplayPort 1.4a, Dual Ball Fan Bearings, Military-Grade Certification, and with GPU Tweak II.
Don't go on its simple design, the ASUS TUF NVIDIA GeForce RTX 3080 is a high-performance, power-packed graphics card with a boost speed of 1785 MHz. Surprisingly, the maximum boost clock speed doesn't end here. If you have an idea about tweaking the graphics card, then you can increase the speed to 2100 MHz or more.
People claim that they've overclocked this graphics card up to 2040 MHz (as from the reviews on Amazon). Along with it, it supports PCIe 4.0 (with a PCIe 3.0 backward compatibility).
With an ultra high performance, the ASUS TUF GeForce RTX 3080 comes with a TDP of 350 which is quite higher than the RTX 2080. But for high-end performance, I think it is neglectable.
Another good thing about the ASUS TUF Geforce RTX 3080 is, it equipped with a triple-fan cooling design and the fans are stronger, much more powerful, and are quiet enough to provide maximum cooling even at the highest load without producing any noise.
Pros
It is not only the best RTX 3080 graphics card but also one of the fastest GPUs for gaming.
The triple-fan cooling and silent fan design provide maximum cooling.
It is compatible with all current generation systems and has good compatibility with older systems.
Cons
Can get heat very quickly if set to run at overclocked speeds.
My Views?
The ASUS TUF GeForce RTX 3080 is a high-end gaming graphics card. This graphics card is designed for extreme performance and nothing can be missing from it. However, the only issue with this graphics card is its price.
It is expensive than the RTX 2080, and if you're looking for a graphics card which not only fit your budget but also offers some high-end performance then I suggest checking some other graphics cards mentioned below.
This is another most picked graphics card in our list, which is based on RTX 3080 chipset and from the latest iteration of MSI's iconic gaming series for extreme performance, and low-noise efficiency. This graphics card is purely built by keeping performance in the mind and according to me, is one of the best graphics cards built for hardcore gamers.
The graphics card has a length of 323mm, 10GB of GDDR6X memory, and a TRI FROZR 2 Thermal Design. Along with it, the graphics card is power-packed with an 1815 MHz boost clock speed.
The Gaming X Trio by MSI is another most prominent graphics card having a 3x fan card with a backplate that has only 2 slots. And as you can see in the image above, the design of the RTX 3080 Trio has improved and tweaked a little as compared to the RTX 2080 Trio.
The MSI Gaming X Trio RTX 3080 delivers an impressive and true high-end gaming performance. Along with it, the GPU is equipped with TRI FROZR 2 thermal system and the TORX FAN 4.0 blades design, which focus airflows on the PC to ensure that optimal temperatures are achieved. It is also equipped with a rigid metal anti-bending strap.
And there are hundreds of more reasons why we have listed this product on the 2nd spot in our list. So, if you need a graphics card with RTX 3080 chipset and with full of power-packed performance and a high-end true 4K gaming experience, then this is the graphics card we recommend to you!
Pros
It looks premium with its triangle design. – It has a metal backplate and an aluminum baseplate.
It has a VR-ready foundation.
The 10GB of GDDR6 memory is really good for a smooth and crisp gaming experience.
Cons
It is also a bit hot when there is a prolonged gaming session.
My Views?
The MSI Gaming GeForce RTX 3080 is a high-end graphics card, which is designed for true 4K performance and offers you a high-end gaming experience.
Talking about the design, I have already told you that it has an improved and tweaked design as compared to the RTX 2080. The MSI gaming Graphics card is built in such a way that it fits into all kinds of systems or desktops (even if your case has a small space).
The ZOTAC Gaming GeForce RTX 3080 Trinity GPU is simply a beast. It comes with a whopping 10GB GDDR6X onboard memory and IceStorm 2.0 advanced cooling system. This GPU is also equipped with Ray Tracing and Tensor cores.
It's based on the NVIDIA ampere architecture, one of the most trusted when it comes to high-end gaming. This GPU also has DLSS AI acceleration, which can revolutionize the picture quality.
With AI rendering, this GPU can increase the frame rates by 1.5X and crank up your visual experience. The RGB lighting adds great beauty to this device, which is easily customizable.
This GPU has amazing active fan control. It allows you to have better control over the fans independently. So, you can easily increase or decrease the airflow as per your liking.
All in all, this device is more resilient than previous models and has a better heat pipe layout. The features like real-time ray tracing justify its cost. So, you can go for this device.
Pros
It has an impressive design
It has a good advanced cooling system
It is a high-performance graphics card and can be the best choice for 4K gaming.
My Views?
The ZOTAC Gaming GeForce RTX 3080 is a powerful and high-end GPU which is designed for 4K gaming. It has an impressive design and offers you great performance.
Here's another beast from ASUS. The ASUS TUF Gaming NVIDIA GeForce RTX 3080 comes with 10 GB GDDR6X on-board memory and dual ball-bearing fans. The NVIDIA Ampere streaming multiprocessors are what make it unique and an efficient gaming GPU.
It comes with the 2nd generation of RT or Ray Tracing cores. It means you can expect up to 2 times the ray tracing experience you had in the 1st generation. This generation of Ray Tracing offers concurrent ray tracing and shading for an immersive gaming experience.
Beautifully designed fans have an axial tech design with an opposite spinning middle fan. This helps reduce the turbulence and thus delivers a silent yet powerful performance. There may not be 8K content, but this GPU can support it whenever such content is available.
TUF components from ASUS and military-grade capacitors make it highly durable as compared to other alternatives. The dual ball bearings, too, add to its durability, which lasts for more than twice the time of common fans.
There's a GPU Tweak 2 system, which helps with performance tweaking. You can also monitor the system and enhance thermal settings for a more robust experience.
Pros
It comes with 10GB GDDR6X memory and has an impressive cooling system.
It is built to offer phenomenal performance.
It has a dual ball-bearing fan design, which helps minimize noise and offers improved longevity for greater durability.
Cons
There is no doubt that this GPU is costly, but you are going to get everything at this price.
My Views?
This is a perfect GPU for gamers who want to enjoy their gaming at the highest frame rates possible. It's the best graphics card for high resolutions and ray tracing.
The price tag may seem like a bit much, but considering how you get all this raw power, there's nothing I can do about it.
The PNY GeForce RTX 3080 is a highly rated product from PNY. It has a 10GB GDDR6X onboard memory, 1440 MHz clock speed, and 1710 boost core speed which is enough for high-end gaming tiles. The PCI Express 4.0 interface makes it highly compatible with a wide range of motherboards.
This GPU is also DirectX 12 ready. It means you can enjoy variable-rate shading and ray tracing with this device. And this is just enough to up your gaming experience. Also, it offers faster frame rates and a flawless video.
It's a high-end device with high-quality capacitors that extends its lifetime. Another beautiful feature is the RGB lighting. It enhances the gaming feel. The company presents a warranty of three years, which is quite satisfying.
The body, however, is quite massive. And, because of the three-fan design, it occupies three slots. So, if you have a large case, this device is perfect. Also, the triple-fan design lets it work by remaining cool even when you're gaming hard.
The device is up to the mark for gamers but is a bit overpriced. Some variants are available for a lot less than this one from PNY.
Pros
It has impressive specifications that make it a good choice for high-end gaming.
It comes with 10GB GDDR6X and is optimized for 4K gaming.
It delivers a smooth and true high-resolution gaming experience.
Cons
This graphics card comes with a really long cable, which may be less convenient for some people.
My Views?
This is a beautiful graphics card from PNY. It's equipped with an efficient triangle-shaped triple heatsink, which maximizes airflow through the device.
It offers you a high-end gaming experience and from its specifications, you can see that this device is compatible with the latest games. So, if you want a powerful GPU for your new PC and also want to enjoy 4K gaming then I suggest checking this product out.
The EVGA 10G-P5-3897-KR GeForce RTX 3080 is a great pick if you need a powerful and modern GPU for gaming. Like other GPUs in this segment, it is equipped with 10GB GDDR6X onboard memory, which lets you handle numerous tasks at a time.
The iCX3 technology helps your card function appropriately without heating much. It detects high temperatures and alters fan speed to maintain an optimum temperature. The clock speed of 1800Mhz is quite impressive in this segment.
One of the best things about this GPU is its three-year warranty and praiseworthy customer support. It's the reason why this GPU is more reliable than others. The real-time ray tracing is meant for all those new AAA game titles which offer the best shadow and lighting.
This device is also equipped with high-end HDB fans, which are meant to be a quitter and keep the system cooler while in use. Durability is another great feature. You'll find a metal backplate with this device, which increases its life and offers a great finish.
It also has a 3-fan design and comes with an alterable RGB led, making it even more attractive. All in all, it's a complete gaming beast. However, the price may be a problem for some buyers.
Pros
The design is great with a black and silver color combination.
It has 3 fans for great airflow.
It has an impressive cooling system.
Cons
The price tag is a bit high and may not be suitable for all buyers in this segment.
My Views?
The EVGA GeForce RTX 3080 is a powerful and high-end GPU that's designed for 4K gaming. It offers you an excellent gaming experience with its excellent performance along with enhanced cooling.
The Gigabyte GeForce RTX 3080 EAGLE OC comes with an Nvidia chipset and 10GB GDDR6X on-board memory. The GPU comes with 3X wind force fans, which helps keep the device cooler even when you're playing heavy AAA titles.
This device comes with AI processing tensor cores. And it helps in boosting the frame rates, which further improves the gaming experience. Variable-rate shading and ray shading are some other features that can enrich the visual experience on the screen.
The GPU is clocked at 1755 MHz, which can be slightly overclocked for better performance. The design may not be quite advanced, but RGB fusion 2.0 helps enjoy the gaming experience. Also, for increased protection, this device comes with a full metal backplate.
The wind force 3X cooling fans are unique of a kind. Unlike common GPUs, this one is slightly different. The middle fan spins alternatively, which is quite helpful in reducing turbulence and smoothens the air dispersion.
Less turbulence means less noise during gaming. A triple fan design may take up about three slots, but it helps keep the system cool. 2nd generation ray tracing makes it twice as effective as of 1st gen ray tracing. This GPU is also equipped with 3rd generation tensor cores.
Pros
It is equipped with 3 fans and has a metal backplate for increased durability.
It offers 4K and HDR gaming at 60Hz.
It offers an excellent 1080p gaming experience.
My Views?
The Gigabyte GeForce RTX 3080 EAGLE OC is a beast for users who are looking for an effective and powerful GPU. Of course, it's not a perfect choice, but if you want an effective graphics card with new features, then this is the one to go for.
Buyer's Guide on Choosing Best RTX 3080 Cards
When there are so many good options, it's obvious to get confused. But worry not, we got your cover. Follow this buying guide and determine what features you should look for. Once you do, you'll find the GPU you need.
1. Clock Speed
Clock speed may not be the only factor that decides how fast your GPU will be. However, it has quite an impact. The GPUs with more clock speed offer better frame rates.
You'll also find GPUs from certain manufactures that are slightly overlooked. This is done to improve the fps and the GPUs performance in general.
2. VRAM
VRAM or Video Random Access Memory is quite critical when you're choosing the best GPU for your needs. The simple logic is, the more, the better.
Say, for example, if you want to play common games, a 4GB memory is enough. If you want to play titles at 1080p, you'll possibly need 6GBs of RAM or more.
And, if you're more of a hardcore gamer who wants to enjoy the 4K, you should prefer 8-10GBs of RAM. The RAM decides how much memory is available for performing multiple operations at a time.
Also, consider the latest version. For example, 10 GB DDR6 RAM is advanced and faster than 10 GB DDR5 RAM. So, you should always keep this factor in mind while you're buying a GPU.
3. Thermal Design Power or TDP
This is another deciding factor for you to consider. TDP usually tells how much heat is transferred. However, it means how many watts your GPU needs to run at factory settings in the GPU.
This is important because if you have a power supply unit that delivers less power than what your GPU requires, it may not function at all. And, in such cases, you'll need an additional power supply unit upgrade.
Although 600W PSU will most certainly support all high-end GPUS, it's still preferred to get your hands on 800W if you're buying something high-end. After all, you'll never want to ruin your gaming experience if your PSU does not have enough wattage to supply.
4. Bandwidth
This factor is different from the VRAM, though connected. Memory bandwidth is the speed of video RAM or VRAM.
The memory speed is usually measured in GBs per second, and it is an important factor to consider while buying a GPU. More is memory speed faster than the GPU create or draw supreme quality images.
You can find numerous GPUs with a memory speed of 14GBS or even 19GBPS. So, make sure to buy a GPU that has better or more memory speed or bandwidth.
5. Price
Now, price is something which you must never ignore. You must check the MSRP before you make the buying decision. Otherwise, you may have to pay an unnecessarily high price.
If you consider the average price, it starts from as low as $100 for pretty low-end cards. And may not be something you would want. GPUs ranging from mid to high-level configuration start from somewhere around $800 and go up to $3000.
So, that's quite a broad range to choose from. The amount you're going to spend depends on what you choose. A high-end device that supports 4K and ray tracing is always going to cost you high.
6. Ports
What if you buy a GPU to find that your system doesn't have compatible ports? You would never like that to happen. So, check for what ports are available with your GPU and then compare them with your display.
Usually, the newer displays have HDMI ports, while the older ones have a common DisplayPort. If these ports are not compatible with your GPU, you may have to buy an adapter.
Once you're done with the display ports, check for the PSU ports as well. Usually, most graphic cards have either six-pin or eight-pin connectors.
You can find which one your PSU has and can order the one that fits accordingly. Exceptionally, there'll be an advanced card that has both connectors. So, make sure to confirm such specifications beforehand.
7. Compatibility with Motherboard
After display ports, your GPU has to be compatible with your motherboard. Usually, the latest computing systems use PCI Express 3.0 slots. It simply means you can insert the graphics card in any of the open slots.
In case you use PCL express 2.0 or some other versions, you may have to connect the card backward. It is because the new cards are backward compatible, If your computer is too old with AGP slots, new graphic cards won't fit in.
However, in most cases, what your motherboard needs is a PCI-e X16 slot. You can open your system and check for the longest available slot.
Frequently Asked Questions (FAQs)
Still, confused with which RTX 3080 graphics card to choose? And have a few more questions regarding the same? Here I'm sharing few FAQs on choosing the RTX 3080 over others and I'll also share some known questions asked by users while purchasing RTX 3080 graphics card.
It will make you crystal clear on choosing the best graphics card based on the RTX 3080 chipset for your next PC build or for upgrading your old PC.
Should I Buy RTX 3080 Edition?
Definitely, I highly recommend buying RTX 3080 graphics card for high-end performance and getting 100% out of your PC. This graphics card is best for doing all the works which requires a high-performance graphics card like playing the world's most popular game at the highest FPS or editing a video of 4K or 8K resolution.
But the RTX 3080 graphics card has slightly more TDP than the previous RTX 2080 graphics card, so if you're upgrading your system with the latest RTX 3080 graphics card, then make sure to check if your power supply can fulfill the power requirement of your computer. If not, I recommend getting a new PSU that can handle the power requirement of your PC easily.
Does the New RTX 3080 Offer 4K & 8K Resolutions?
The answer is yes, the new RTX 3080 supports the 4K and 8K resolution. The graphics card which I shared below provides a true 4K experience in high-end gaming and if you're not using the latest RTX 3080 series, then I highly recommend you upgrading your system.
And if you really want to experience the 4K resolution with your RTX 3080 graphics card, then I advise you to install DLSS AI which allows you to do extra ray tracing settings.
Video editors can also use this graphics card to edit their videos on time with no hassle and fast video rendering. And with this graphics card, you'll get a quick rendering of your videos and the clock speeds to cover up your video editing work at the required time.
How Many Ports Do I Need for Gaming?
Well, it totally depends upon your requirements on how many ports you need. You'll get a powerful PCIe 4.0 port with your RTX 3080 graphics card, which helps in increasing the bandwidth speed to get high-speed performance. Along with it, the RTX 3080 also introduced with two new ports, i.e. DisplayPort 1.4a and HDMI 2.
So it totally depends upon you and if we talk about the power connector ports, then some ports need to be checked before buying the new RTX 3080 graphics card. Moreover, all the new ports which are introduced in RTX 3080 in combination with the old ports can be used to increase more functionality and it also allows an external device to connect with the graphics card, only if they're compatible.
Which PSU Should I Go with RTX 3080?
As we all know, the power supply unit or PSU is one of the most essential parts of our computer because it stabilizes the current and sends desirable power to every component in our build. If unknowingly, you bought a power supply unit with under wattage, then it can be harmful to your computer.
Because of this, the chances are, your computer will not boot up or you'll not get the performance out of it. So for using the RTX 3080 graphics card in your system, we recommend choosing a PSU or power supply unit with no less than 750W. You can also choose the 800W power supply unit for your build if you're planning to overclock your graphics card and other components.
And apart from it, also make sure the cables you're using to connect your graphics card with the power supply unit are compatible, because if they're not fully compatible, then you'll not get the performance you want from your RTX 3080 graphics card.
Which RTX 3080 Card Should I Buy?
This question is totally depends upon you and your requirements. If you ask me, I prefer buying the "ASUS TUF RTX 3080 OC Edition", Not only I prefer buying it, but actually I just bought it from Amazon for my upcoming built. This graphics card is one of the streamlined RTX 3080 graphics cards from the renowned named ASUS TUF series, which is well known for providing a high-end gaming experience.
But I highly suggest you first check the other core components which you have and look for the PCIe port supported by your motherboard, It is because if we talked about the motherboards, most of them (old one) supports PCIe 3.0 and if you're choosing a motherboard with are old enough, then you'll never get the 100% out of your graphics card and for this, I recommend you other graphics card like RTX 2070 Super.
And for this – I highly recommend you to get a motherboard which has PCIe 4.0 ports for far and far better performance. It is also necessary, because when you overclock your graphics card with older motherboards, then it can crash at high boosting speed.
RTX 3080 vs 2080ti – Which One is Best?
If we compare the RTX 3080 with its predecessors like RTX 2080, RTX 2080 TI, and others, it has gained a super performance and ranked. According to UserBenchmark, the RTX 3080 is now the 2nd most powerful graphics card after the RTX 3090, which is a bit costlier.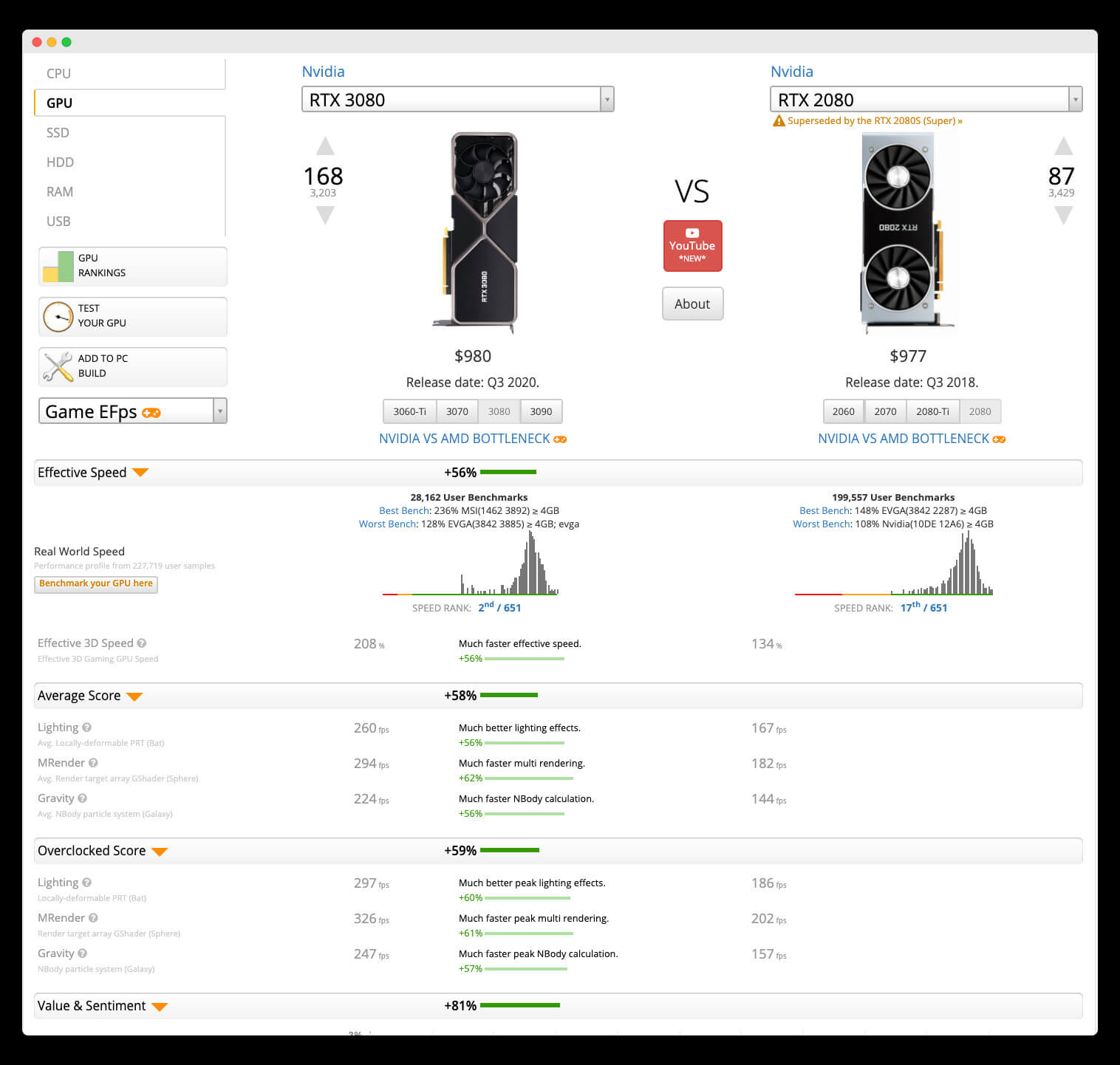 And as you can see in the image above, it has a much faster effective speed than the RTX 2080 with an average 58% increase in performance, 59% increase in overclocking score, and an 81% increase in value & sentiments, respectively.
The result which I shared above is not just reviewed by them or on a single GPU test, but the benchmark which is shared above purely depends upon the real users who're using RTX 3080 on their desktops. And as you can see in the image above, more than 28,162 users have benchmarked this graphics card while writing this post, and the number is continuously growing.
Any Compatibility Issue with RTX 3080 Graphics Card?
No, you'll not get any compatibility issues with the RTX 3080 graphics card. If you're using the RTX 2080 graphics card on your custom build pc, then you can easily upgrade to RTX 3080 without any issue.
All graphics cards are backward compatible, which means a graphics card with a PCIe 4.0 port (which is now supported by RTX 3080) can backward compatible with a motherboard having PCIe 3.0 slot.
But for better output performance, throttling, and to get 100% of the performance, I recommend you to grab a motherboard that has PCIe 4.0 ports. It would be best for you and your system will work efficiently without any bottleneck issue and give 100% of it while playing high-end games or doing 4K and 8K video editing works.
RTX 3080 is Budget-Friendly or Not?
As of now, if we compare this graphics card with its predecessors, then I don't think it is a budget-friendly option to buying this RTX 3080 graphics card.
If you're not looking for high-performance gaming, then I highly recommend you consider the other variants from RTX 2080 or the RTX 2070 series which comes at very little pricing. But if you need a power-packed performance with extra features, then RTX 3080 is your choice.
Wrapping Up!
So in this guide today, I tried my best to explain all the RTX 3080 graphics cards which you can consider buying this year. These graphics cards are extremely powerful and are best for playing high-end gaming and doing video editing and other related works.
I also placed an amazon order for the "ASUS TUF RTX 3080 OC Edition" graphics card for my upcoming build. If you want, you can buy this graphics card or any of the RTX 3080 graphics card which I shared above for your next custom build PC. And don't worry about the compatibility of these graphics cards, they're fully compatible with all motherboards but I recommend buying the motherboard with PCIe 4.0 support.
If you've got any issues while building the PC for yourself, then you can also use online tools to check the compatibility of the PC before actually buying it. For this, I recommend you to use tools like PC Builder; It is a highly efficient website for checking the compatibility of your RTX 3080 graphics card with other core components including the motherboard, RAM, processor, etc.
And if you liked this guide, please share it with your friends and family and let them build their PCs by using the RTX 3080 graphics card for extreme performance.