PlayStation 5 or PS5. The name is just enough to awaken the gaming fever in anyone who's a big gaming fan.  Sony has recently unveiled the next-generation design and specifications the PS5 comes with. It seems to outlast every predecessor in terms of performance, graphics, and gaming experience.
Are you curious about PS5 graphics? Do you want to know what PlayStation 5 is capable of?  Well, this blog is meant for you. You'll find numerous exciting things from the basic specifications of PS5, including storage type, clock speed, to ps5 graphics and ps5 GPU.
What Makes The PS5 Graphics So Special?
There has been so much hype among people about the PS5 graphics. But what makes it so special? Well, it's AMD's rDNA 2GPU, which is installed in the PS5, which makes it so special.
This graphics card from AMD is heavily customized and is suited to deliver high-end performance without lags.  The graphic card comes with 36 compute units and up to 10.28 Teraflops of computing power. Each computer unit runs at 2.23GHz. And the GPU is also clocked at 2.23GHz.
With all these features, the graphics card can support:-
What's The Most Important Factor That Determines A GPU's Performance?
Although numerous factors determine how fast the ps5 GPU will be, Teraflops is one of the most important ones. You can understand Teraflops as a unit of calculations a console or GPU is capable of.
For example, PS4 has 1.8 TFLOPS, which means PS4 can perform 1.8 operations a second. And if you consider PS4 Pro, it has 4.2 TFLOPS. And it means PS4 Pro can perform about 4.2 trillion operations per second. The more the TFLOPS, the more is the GPUS ability to perform better.
So, when you consider the PS5 GPU, it has 10.28 TFLOPS. It's more than double TFLOPS than the PS4 Pro. It means PS5 GPU can perform complex calculations at a rate of 10.28 trillion calculations a second. Now, you can determine how better the PS5 will be in terms of graphics performance.
One thing you should not forget is, TFLOPS may be an important factor that determines the performance of a PS5 GPU; it's not the only one.  There are several other factors like clock speed, compute units, which affect the performance too.
What Is Possible With PS5 With The Customized AMD GPU?
The most amazing things which are made possible with the customized GPU are
8K videos
4K Native Games
High Definition Recording
The above-listed things or features are what make PS5 unique and exceptional. And all that power comes from none other than AMD. You can play 4K native games at 120 fps. More fps or frames per second means better detailing, fast loading speeds, less lag, and overall a flawless gaming experience.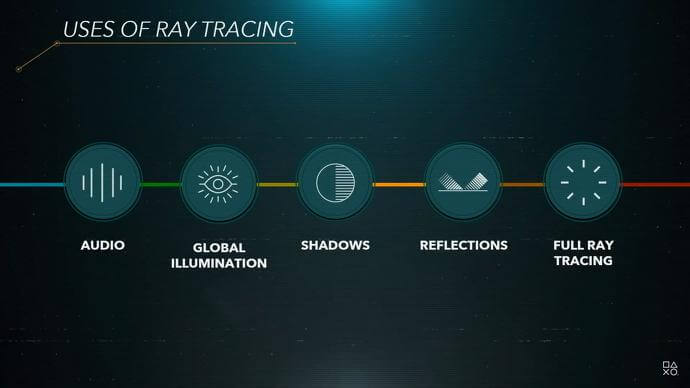 Although 8K content is still too advanced for us, it still supports playing 8K videos whenever such content is available in the market. Another notable feature or improvement that comes with PS5 GPU is ray tracing. And this is not what you can find with every other console. Those who don't know what ray tracing makes the shadow and light effects more relisting.
How Does Ray Tracing Work?
The procedure is pretty simple. Both the GPU and the CPU work one after the other or in a tandem arrangement to render every scene. Their job is to simulate and track every light ray coming from the source and making it more and more realistic.
Say, for example, if a ray of light touches an object, the system will calculate the expected position where the light rays will land. And this will deliver a more realistic view. Now, this is something filmmakers have been using to give a real-life touch.
Fortunately, game developers have also started using this technology to deliver an immersive experience to the user. If you're fortunate enough to own a PS5 and a 4K TV, you can experience the best by playing Speeder Man: Miles Morales.
It's because many users have reported high end detailing. Some users were even able to notice the stitching of the spiderman suit.
Which PC Graphics Card Competes For The Best With PS5?
This question disturbs every high-end PC gamer's mind. As the PS5 Graphics card is a custom-made graphics card, it's quite hard to find something equivalent. However, as AMD crafted, comparing an AMD graphics card for PC can bring us a bit closer.
If you consider the computer units with a PS5 graphics card, AMD Radeon RX5700 stands quite a chance.  It may not be the fastest available graphics card in this segment, but it's in the top list of PC graphic cards.
With an AMD RX5700, you can run numerous AAA titles at over 60 frames per second and 1440p. This is quite impressive. However, if you need something even better, you must go for the PS5 console.
Do The High-end Graphics in PS5 Help With Better Performance? 
Well, the short answer is, Yes. Sony has crafted so many high-end features, not just for the sake of it. And these features are the reason behind the Sony PS5 being one of the most loved and powerful consoles ever made.
The best, however, is the Xbox Series X by Microsoft. But the PS5 is not much behind. The best game to judge PS5's performance and the use of amazing features like ray tracing is the Spider-Man: Miles Morales.
All the particle effects and hairline textures were visible, as the gamers claimed. Whenever there's a scene within the game where more than one character is involved, a slight latency is expected.
There will always be latency in Xbox 1 X, PS4 Pro, and other predecessors if you have noticed. However, there is no such lag if you use PS5.
Load Or Boot-Time
One of the best ways to judge the performance of a console-like PS5 is by checking the boot or load time for any high-end game. Fast travel in the world-famous game Witcher 3 took somewhere around 4 seconds on PS5, while on PS4Pro, it took about 47.2 seconds.
Another example includes the loading time of Assassin's Creed Origins. It took about somewhere under a minute to load the game in PS5 and around a minute and twenty-four seconds in PS4Pro.
The loading time itself tells us how well the PS5 performs when compared to other lower versions.
Other Factors 
If you've used a PS4 Pro, you would be aware of the whirring sound the fan makes while you play something heavy. Or you must have noticed the hot air which comes from the vent. This is not something you're going to experience with Sony PS5.
While you use PS5, the air will be warm but not hot as it was in PS4 Pro. Also, you won't hear any jet turbine-like sounds from PS5. All the high-end features and hardware settings are what make PS5 work so smooth.
Is It Worth Upgrading From PS4 Pro Or PS4 To PS5?
If you're a PS4 user, you'll most certainly have the above question in mind. Here are some differentiating criteria: –
1. Processing Units And Graphics
Every time Sony brings a technical leap in its new models. And PS5 is no expectation. PS4 and PS4 Pros use the same octa-core AMD Jaguar chipset, PS5 uses something more advanced and latest.
As you may know, PS5 has a processor based on AMD Zen 2 octa-core design. Now, this processor runs at 3.5 GHz, which makes it exceptionally faster than any other alternatives.
The PS5 GPU is again more advanced, which has 10.28 TFLOPS. It outlasts the PS4 and PS4 PRO, which have 1.8 TFLOPS and 4.20 TFLOPS, respectively. You can also find a new 4K native gaming experience with PS5 at 60 fps, which is not available with its predecessors.
2. Storage Capacity & Memory
You'll find an 8GB DDR5 RAM in both PS4 and PS4 Pro. And, PS5 has an amazing 16GB DDR6 RAM, which helps it perform more functions at a time.
One significant difference that makes PS5 a lot faster is the storage. You'll find 500 GB HDD in PS4 and 1 TB HDD in PS4 PRO. And PS5 comes with a custom made 825 GB SSD and not HDD.
Long story short, PS5 comes with a solid-state drive. And this adds in more fluency and reduces lags.
3. Price
The price is not much according to what features PS5 comes with. The diskless model costs around $400 or Rs. 30,000, while the one with disc costs $500 or Rs. 37,000. And the PS4 costs around $400 or 30,000. It means you'll have to spend almost a hundred dollars or Rs.7,000 more.
It's quite a fact that PS5 offers an extraordinary technical leap, but the PS4 and PS4 Pro can run all the games you can play with PS5.  However, the PS5 is more future-ready and supports 4K plus 8K video. So, if you have the cash, you should invest in a PS5 for sure.
What Makes PS5 Different From Xbox Series X?
If anything is better than PS5 or can compete with PS5 GPU, it's the Xbox Series X from Microsoft. Both Sony and Microsoft have introduced some of the most advanced hardware additions.
Like you'll find a different customized SSD, GPU, and CPU, which makes it ready for the next-gen games.
1. Technical Differences 
While you can find something similar in Xbox Series X, its CPU is clocked at 3.8 GHz. And this pushes it a step forward as compared to PS5. Where the PS5 Graphics card comes with 10.28 TFLOPS, the Microsoft Xbox Series X comes with 12 TFLOPS.
The PS5 is composed of 36 compute units; the Xbox Series X comes with 52 complete units. Such factors enable the console from Microsoft to perform significantly better than our PS5.
2. Games That Come Along
There's no doubt about the fact that PS5 comes with better games. You can find some excellent titles like Spider-Man: Miles Morales, Sackboy, Demon's soul, and more. Microsoft has not explicitly released any unique games for Xbox Series X.
However, they've released the games, which are improved versions of Xbox series one. You can find notable improvements that improve the gaming experience.
Some standard titles are Forza Horizon 4, Ori, Gear5, and more. The best part is these Xbox Series X games are available for Xbox 1 and PC too.
3. Performance
The best way to compare these two devices' performance is by comparing the load time of two massive games. We can consider the Assassin's Creed Valhalla & Devil May Cry 5. The PS5 went into the game from the main menu in much less than a minute.
And, with Xbox Series X, it took quite a long time of almost a minute. But the fast travel time in both these devices was the same. This is the only thing where one could tell a noticeable difference. Talking about the gameplay, you can barely notice a difference. Both these devices work very well, offering no lag at 60 fps.
Talking about our 2nd game, which is Devil May Cry 5: Special Edition. The Xbox Series X was able to deliver better shadow and lighting effects with ray tracing. Also, the Xbox Series X offered a smoother and lag-free interface on turning the 120fps mode.
Although telling the difference between Xbox Series X and PS5 is quite hard. Still, the winner is PS5. It's most certainly because of the time it takes to load between two interfaces within a game.
Summary Of PS5 Features
Here is the summary of PS5 features which you need to know.
CPU: It has AMD Zen 2-based CPU, which comes with eight cores clocked at 3.5GHz

Memory/RAM: 448GB per second bandwidth, 16DDR6

Storage Capacity: IT comes with a custom 825 GB SSD with a raw speed of 5.5GB/s

Audio Hardware: Tempest 3D

Optical Drive: 4K Ultra-high Definition Blu-ray drive

Expandable storage: Comes with an NVMe SSD slot for expansion

GPU: 36 computer units clocked at 2.23 GHz with variable frequency and RDNA 2 from AMD
Conclusion
No matter what happens, PS5 has a huge fan base. The PS5 GPU, CPU, and other hardware settings it comes with are advanced from the PS4 and PS4 Pro. The attractive optical drive, which is usually missing in other devices, makes it unique.
Sony has put in everything it requires to deal with next-generation gaming. Be it the unique custom-made SSD or the AMD GPU, and it has everything a high-end gamer would ever need.  If you're a game lover thinking of buying a PS5, you should go for it, keeping in mind its features.
If you're looking to build your custom PC, then you can also check our post on building the rig of compatible pc parts before even buying them using the tools mentioned in this post.
Here are a few more relevant posts related to the graphics cards, which you can consider reading…